Wyoming Community Centre officially unveiled its new group brand identity to the community at its recent Annual General Meeting (AGM) on Thursday 13 October 2016.
Attendees were introduced to the new group name, Gosford Regional Community Services, which has been selected to better reflect the broad role that the organisation plays in the wider Gosford community.
Gosford Regional Community Services encompasses Wyoming Community Centre, Wyoming Out of School Hours Care (OSHC) and Point Clare Community Hall.
The organisation is dedicated to supporting residents of the Gosford region through advocacy, referrals and information, and the delivery of a diverse range of activities and services.
Executive Officer of Gosford Regional Community Services, Kathy Sokk, says that the rebranding marks an important step in the overall growth of the organisation.
"We have been working with local groups, families and individuals for more than 20 years as Wyoming Community Centre, but as our services and geographic reach continue to expand, we felt it necessary to also expand our brand also," said Kathy.
"As our services are no longer limited to the Wyoming and North Gosford areas, we developed an identity that would better capture who we are and what we are becoming and where we are heading in the future.
"We are proud to continue our association with Wyoming Community Centre while also running services and activities through Point Clare Community Hall and Wyoming OSHC as well as other community platforms," she added.
The AGM also saw the announcement of the new Gosford Regional Community Services Board, which includes Chair Vicki Scott, Vice Chair Michael Daly, Treasurer Susan Cleary, Secretary, Mary Pritchard and Board Members Jason Van Ritten, Rebecca Wild and Melissa Garland.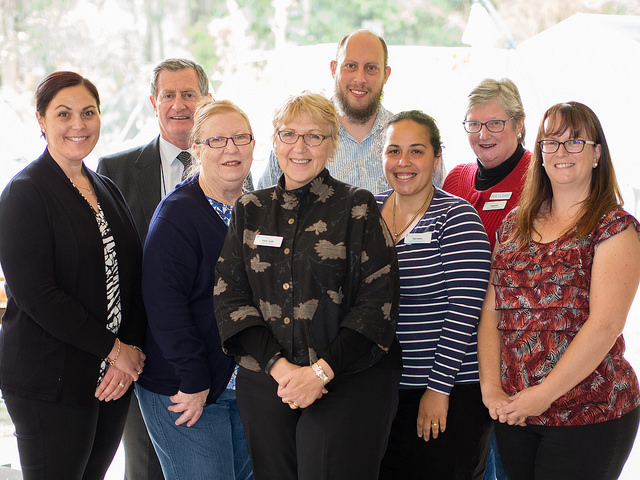 (L to R) The GRCS Board: Rebecca Wild, Michael Daly, Vicki Scott, Kathy Sokk (Executive Officer), Jason Van Ritten, Mary Pritchard, Susan Cleary, Melissa Garland.